Pathway Transformation Initiative
English 100 EI Faculty Profiles
Elli England
Elli England has been an English instructor at Fullerton College since 2006, but before that, she was also a Fullerton College student – Once a Hornet, Always a Hornet! Even though she was the first in her family to attend college, she went on to earn a BA and MA in English from CSU Fullerton.
Some of her favorite topics are film and photography, advertising, cover art, monsters, costuming, and dystopian societies. Outside of classes, Elli volunteers with a Boston Terrier rescue organization, enjoys spending time with her husband and two dogs, likes traveling, and dreams of being a Storm Trooper one day. She has also been known to commune with crows.
Danielle Fouquette
Danielle Fouquette started teaching English at Fullerton in 2002 after spending 10 years working as a journalist for newspapers in California and Virginia. She went to CSU Fullerton for undergraduate and graduate degrees in English and studied language, literacy, and culture in graduate school at UCSB.
In her English 100 Enhanced Instruction class, students read and write about issues related to race, socioeconomic class, and civic life. Her interests and hobbies include reading, writing, hiking, finding interesting podcasts, and exploring big cities.
Cynthia Guardado
Cynthia Guardado, is a Salvadorian-American Poet and Assistant Professor of English at Fullerton College. She has been teaching at Fullerton College since 2016 and received her Bachelor of Arts from the University of California, Santa Cruz and her Master of Fine Arts from California State University, Fresno.
The theme of her English 100: Enhanced Instruction course is Social Justice in America, and the course will discuss a variety of issues regarding what it means to be a citizen in the United States. When she's not teaching she is writing & performing poetry, attending community events, and riding her bicycle.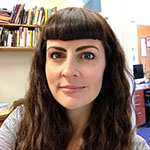 Bridget Kominek
Bridget Kominek has been teaching English at Fullerton College since 2007. She earned her BA and MA in English at CSU Fullerton. She also studied political science and American studies. Her English 100 Enhanced Instruction class explores the theme of music.
Students read the memoir Love is a Mix Tape and the read and write about protest music and musical subcultures. When she's not teaching, Bridget enjoys reading, going to concerts and museums, and watching professional wrestling.
Stefani Okonyan
Stefani Okonyan has been teaching at Fullerton College since 2010. She earned BAs in English and Linguistics at the University of California Santa Barbara where she also participated in the study abroad program in Greece. She earned her MA and PhD at Claremont Graduate University and focused on themes of childhood, education and the imagination in Romantic literature.
The theme of her English 100 EI class is sustainability. In her course, students explore personal, national and global relationships with the environment and how our choices, policies, and conservation efforts affect the world around us. Stefani enjoys traveling near and far, spending time with family and friends, and eating delicious food.
Kim Vandervort
Kim Vandervort has taught English on various college and university campuses since 1999, and has taught various levels of composition at Fullerton College since 2013. She earned both her BA and MA at Cal State Fullerton.
In English 100 Enhanced Instruction, we will examine the impact of consumerism and overconsumption on individuals, society, and our planet. When she's not teaching, Kim writes and publishes fantasy fiction, and is a proud faculty advisor of the Fullerton College LiveWire literary journal.